(The banner was made by the wonderful Emz over at
Icy Cold Reads
! FYI: HER BLOG IS BEAUTIFUL!)
So if you haven't heard (either on Twitter or by looking at the tab up above) I have decided to start a new feature on my blog called Teens Take Over!
I am so excited to be able to have the chance to interview some of my fellow teen bloggers and also be able to so everyone the complete greatness of teens!
To see more about this new feature and the background behind it, either go click on that BEAUTIFUL banner or go to the tab up above!
So the first brave blogger to step forward was Em @ The YA Book Butterfly! (Well I'm not 100% sure that she knew exactly what she was getting into! She probably thought this was an just an interview!)
**NOTE** Em's answers are in
RED
and my responses to somethings are in
Dark Green
.. The questions are black!
(OKAY... first comment... I LOVE HER BUTTON!! DON'T YOU??)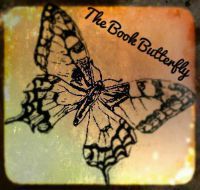 INTERESTING FACTS:
I prefer crocheting over knitting......baking over cooking.........and reading over watching TV (obviously)
FAVORITE GENRE:
Only one?????? How about 3
FAVORITE BOOKS AND AUTHORS:
Pride and Prejudice is a favorite :) Its not YA but still amazing!
North and South by Elizabeth Gaskell
Ally Carter (can't wait for United We Spy)
1.) So the burning question in everyone's mind: As a teen how do you feel about book blogging? Is it a big commitment? How do you manage your time with your blog AND school?
It is just something fun to do to share your love of books with the world (haha that sounds so nerdy)
I prioritize.......don't spend so much time just around on the internet and instead blog.
(Wow.... you just put me to shame here! I love doing things other than blogging and I'm awful with the whole time management thing!!)
2.) You mentioned that you had been lurking around different blogs for around a year! What was the factor that pushed you over the edge and made you want to get a blog?
I realized that I read quite a bit more than a lot of bloggers out there and I decided that out of all those books read, I could find some time to review some of them.
Also before Goodreads and Blogs I had a hard time finding good books to read.
(I know the feeling! I lurked for like EVER!!)
3.) Was creating a blog spur of the moment or did you think about it a lot? Is there anything you would want to change about it? (Like for me I wish I had put more thought into the name!)
I thought about it a lot before doing it. I can't really think of anything I would want to change about it.
(WOW, I am just so impressed by your self control!!)
4.) Do you have any future plans for your blog? Like creating a new meme, writing a certain post, ect....
Just to continue reading and reviewing as much as I can!
5.) Do you want to mention any other teen bloggers that you find inspirational?
(HAHA! Remember though followers are not all that matters!)
6.) QUICK!! Grab the book closest to you flip to a random page, close your eyes and point to a random sentence. Write it down and maybe tell us what you think about that sentence!!
Dillon got up and let me out, but Josh didn't drop my hand.
-I'd Tell You I Love You But Then I'd Have To Kill You-Ally Carter
No no no......Josh and Cammie are not supposed to be together......where is Zach?
(Yes!! THis is just so true and such a good quote!!)
7.) As a teen I'm sure that some of your major goals might involve taking over the world... As mine do. If that happens what role do you see yourself playing in a rebellion:
-The Rebel who helps to take down the evil leader.
-The evil leader who wants to squash the rebellion (This is sooo what I would be!!!)
-The random person who goes about being hungry
-Or the rebel's bestie who is soooo loyal
the rebel's bestie who is soooo loyal :P
(Interesting.... Very interesting!)
8.) Name genre that you would never EVER read.... It could be a specific book too...
I don't know if its a never read.....but horror novels.
(Me neither!! They are normally sooo scary!)
9.) Okay, you have followers. Go pick a random one and tell me there life's story... This can be totally fake, but I feel that as both a book blogger and a teen you should have a crazy imagination! If you feel uncomfortable writing about a random follower please feel free to write a totally fake story about me. And if you actually want to put effort into finding out about the person please do!
Let's make it fun and write about you :)
You're a straight A student....who has 11 dogs and 3 cats......You are team Edward, you hate Lizards, and you are obsessed with scarves.
(I WISH I HAD 11 DOGS!! I need to get on this! Hmmmm.... This sounds like a very interesting person!)
10.) below I am going to write a summary for a book that is completely made up. I would like to know if this is something you would ever read.... If you would never read it tell me your biggest reason why not!
Growing up a pauper in the village of Cocawookie, Henrietta had never been able to live life luxuriously. But one day a mythical sorcerer descends from the sky looking for what he proclaims to be the chosen one.
Minutes later a prince from the kingdom of Pourshakla storms the village searching for the very thing the sorcerer wants most.
Henrietta is approached by both men as they look for a way to gain the villager's trust.
Conflicted on whether she should help the warty sorcerer or the really short prince Henrietta is caught in a web of lies and deceit, the biggest lie being her own.
I think I would read it just for the Kingdom and Village names hahaha!
(Note to self: I need to write a book with crazy names!!)
11.) what is your all time favorite word? Write a sentence using it!
SUPER­CALI­FRAGI­LISTIC­EXPI­ALI­DOCIOUS
I can't use it in a sentence, but if you don't know this word go watch Mary Poppins
(I applaud this epic word choice! Great pick!)
Cat or Dog
Werewolf or Vampire
Werewolf (unless its Edward)
Angel or demon
Light or dark
Favorite color
I don't believe in favorites (I don't want to make the other colors feel bad)
(I don't believe you!!! You're obviously thinking in your head that green is the best!)
Best bloggy friend
Best blogger inspiration.
Veggies or meat
Time or distance
Word off:
Find a book and flip to a random page point to a word and write it down.
Repeat.
Out of those two words which is better? Explain.
Overbrightly & Stagecoach
Stagecoach because then there would be horses
ALRIGHT!! So that was the first interview for TEENS TAKE OVER!!! I hope it was good! And also is everyone excited??? JUST THINK THERE WILL BE MORE FUN THINGS TO COME!! Seriously, tune in later to find a fun post ABOUT TEENS TAKE OVER!!! (I can't tell you what it is though! It's a surprise!!!)
I would love to hear thoughts on this new feature! And ANY comments are appreciated!
GO CHECK EM OUT!! By the way, a little birdie told me m is running a neat giveaway on her blog involving a popular ebook! Go enter
HERE!!!