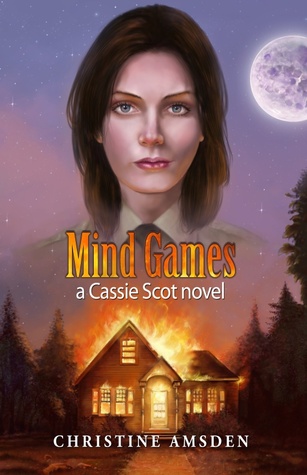 Title: Mind Games
Author: Christine Amsden
Genre: NA, Mystery, Fantasy
Series: Cassie Scot #3
Rating: FIVE trees
THE PREMISE
Beware your heart and soul…
Evan broke Cassie's heart two months ago, and she still doesn't know why. She throws herself into family, friends and her new job at the sheriff's department, but nothing helps. The only thing that finally allows her heal and move on is the love of a new man, mind mage Matthew Blair. Cassie finds him…irresistible.
Matthew may also be the only one who can help keep the non-magical residents of Eagle Rock from going crazy over the murder of a beloved pastor's wife. It looks like a sorcerer is to blame, but while Cassie tries to figure out who, others take matters into their own hands. With tensions running so hot, a single spark might set Eagle Rock ablaze.
MY THOUGHTS
To tell you the truth, by the third book in the series, I'm normally sick of the characters. It might have something to do with the wait between books, but more often it seems as thought the author has run out of new refreshing ideas to keep the entire book interesting.

Fortunately, this is not the case for the third book in the Cassie Scot series.
The entire cast of Mind Games is colorful, to say the least. And that is one of the reasons why this series has completely enraptured me. The author is constantly introducing new, unique, and even quirky characters that
constantly
make the story progress. She also brings back old characters and
expertly
develops their characters and makes them
altogether
too believable, even though they are not people you would find in our world.
Cassie's family also makes the continued interesting appearance in the novel. I loved learning a bit more about Elena, as well as the rest of Cassie's family. In the two previous books, I feel as though we still didn't know a lot about the entire Scot clan, but at this point I feel like Cassie's mother's story is even more fleshed out than it was in the previous book.
Another thing that I love about the series is Cassie's humor no matter what. There were so many points were her she truly shone as a character with her quick witted comebacks and snappy remarks. It was an aspect of the novel where, without it, the book would have been amazing, but with the added humor, and laugh out loud moments, the book became phenomenal.
I also love how each book has an individual mystery for Cassie to solve, yet it all comes together to form the bigger picture!
I loved Cassie's continued strength and independence throughout the book. She has the option of leaning on her parents for support, but instead she chooses to fight for what she wants on her own terms. Often in the books I read, this isn't a priority for many characters, but I love that Cassie values having control f her life and isn't planning to let anyone run it for her.
I also loved the constant twists and turns in the book! I wasn't expecting half of it to occur until it hit me in the face! I love how the author, in retrospect, left clues all over for the reader to find, yet did it in such a subtle manner that the reader didn't truly see it coming until it had already occurred! She is a fabulous author in that respect and would keep an reader constantly flipping the pages to find out what happens next!
The last thing I have to say is about the romance....
As you may or may not already know, a bit of a love triangle like thing occurs.... except it's not really a love triangle and is just kind of awesome! I can't explain it, but I absolutely love how the author did it! With that said, I clearly have but one ship in the series: Cassie and Evan. If they don't end up together I might just have to cry.... They are just too perfect. Their relationship is perfectly written with flaws and problems, but the author manages to write them so perfectly... I just... *sigh* Perfection!
I know that I haven't even covered nearly as much as I want to in this review, but unfortunately a lot of my thoughts are epic spoilers and I can't really ruin it for you all!
IN CONCLUSION
One of my favorite things about these books is that they are so character driven. Amsden masterfully manages to create each character and make you, as the reader, feel as though you personally know them. She develops each character so fully that the book completely sticks in your mind and makes you desperately want more. Her style as a writer is solid and easily captured me into reading every last word until the book was done. She expertly has interwoven a story with strong characters, a beautiful writing style and an amazing plot into a single story of a girl who starts off unsure of who she is and is slowly turning into a character that the reader feels proud of along the way.
I am definitely waiting in suspense for the next book (which I believe is the last in the series.)
Even after the end of the Cassie Scot series, I will definitely be following the author to read everything else that she will write. I highly recommend you begin this series immediately!
First Chapter:
http://christineamsden.com/wordpress/?page_id=3118
(Warning: Contains series spoilers. New readers to the series would be better off checking out the preview of book one below.)
Buy Links
a Rafflecopter giveaway