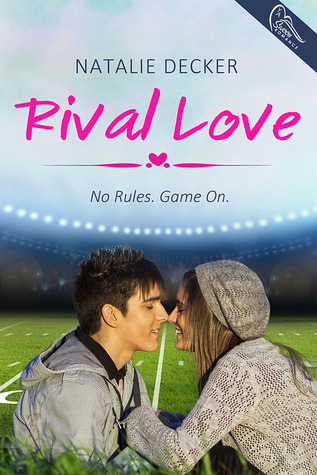 Title: Rival Love
Author: Natalie Decker
Genre: YA, Contemporary, Romance
Series: ? (I think so...)
Rating: Four Trees
THE PREMISE
Skylar Fletcher is a proud Harris Academy Bulldog! She has everything she's ever wanted: a perfect boyfriend, great friends, and her dream college waiting for her in the fall. But nothing lasts forever. Skylar's world shatters when her mom decides it is time to move and drags Skylar, kicking and screaming, into Bobcat territory.
At Delmont High School, home of the Bobcats, Skylar has no friends and is often bullied. To make matters worse, her home life sucks thanks to all-star quarterback Caleb Morgan, nephew of her mom's live-in boyfriend.
At first Skylar and Caleb want nothing to do with one another. But they soon discover they're not that different after all--and each is harboring a secret attraction to the other. But can a Bulldog and a Bobcat ever really be more than friends? And are Skylar and Caleb willing to risk everything to find out? Rival Love is a debut young adult contemporary romance from Natalie Decker.
MY THOUGHTS
Rival Love is definitely one of those cute books that's a quick, fun read, perfect for when you need something on the fluffier side.
The book starts out with our main character moving into her new home in the enemies territory.... *DUN, DUN, DUUUUNNNN*
As a teenager I can sympathize with Skylar and the fact that her mom is forcing her to move her SENIOR YEAR! I completely understand Skylar's point of view and why this would be such a traumatic experience for her. I'm pretty sure most people would have that problem.
On the the hand, I completely didn't understand Skylar's mom. The fact that she moved in with her boyfriend and forced Skylar to switch schools and never understood why this was such a big deal bugged me. I didn't like how oblivious her mom was and it really brought the book down for me.
The one other negative thing I have to say is the fact that the secondary characters are kind of unrealistic. Skylar loses all of her friends from her old school because they are so mad that she switched to the rival school, like huh?! That was waaaayyyy too extreme. I also thought the bullying Skylar underwent was over the top. I've never known any school to be so competitive and mean especially when they could be gaining a huge asset to help out their own teams.
I did really like Skylar's and Caleb's relationship. I love the whole enemies to friends trope and I love how it played out on this book.
I also thought that the author did a fantastic job with the switching POV. I felt that the voices were recognizable and unique so I didn't feel confused when I was reading.
I also loved the sports aspect and how Skylar was a swimmer. That was definitely fun to see how it played into the book.
I did find the ending to be a bit rushed. All of a sudden all of this stuff is going down and it feels kind of like WHAT?!
I will definitely be checking oh the next book because I am so curious as to what might happen next.
I would recommend this book to people looking for something light and fun. It was definitely perfect for the mood I was in!
MY RATING:
Natalie Decker is the Author of Rival Love. She loves oceans, sunsets, sand between her toes, and carefree days. Her imagination is always going, which some find odd. But she believes in seeing the world in a different light at all times. Her first passion for writing started at age twelve when she had to write a poem for English class. However, seventh grade wasn't her favorite time and books were her source of comfort. She took all college prep classes in High school, and attended the University of Akron. Although she studied Mathematics she never lost her passion for writing or her comfort in books. She's a mean cook in the kitchen, loves her family and friends and her awesome dog infinity times infinity. If she's not writing, reading, traveling, hanging out with her family and friends, then she's off having an adventure. Because Natalie believes in a saying: Your life is your own journey, so make it amazing!

Author Links:
http://adayintothewriter.blogspot.it/
https://www.goodreads.com/author/show/7487891.Natalie_Decker
http://www.twitter.com/NatalieDecker07
https://www.facebook.com/natalie.decker.716
$10 Amazon gift card + ebook of Rival Love (INT)
a Rafflecopter giveaway